Industrial Grade Trusted Timestamp Service
DigiStamp is the most trustworthy and reliable RFC3161 provider, for the past 20+ years.
Trusted because:
The clock is secured - system administrators do not manage the clock
FIPS Level 4 certified - the SecureTime robot cannot be bribed.
High availability - it simply works, always
7 year renewal warranty -. Quantum computing risk managed.
DigiStamp has been in the trusted timestamp business for 20+ years.
Secure Clock
Only DigiStamp SecureTime has the clock within the HSM that cannot be modified (except for small drift adjustments). Seems an obvious requirement. When compared to other RFC3161 providers that might use an off-the-shelf HSM for the common need of protecting the signing key. But, but … this is the trusted timestamping business and the clock needs the same security as the signing keys. Otherwise they have opened the potential for backdating timestamps.
See more details about the secure clock and the HSM here.
FIPS Level 4
An HSM with FIPS Level 4 certification is simply more secure than Level 3 or less. Level 4 is the highest level.
DigiStamp's Timestamp Robots will do a "known task" because the software contained in the HSM is audited by parties external to DigiStamp. You can prove the timestamp comes from this secure clock and private key within this HSM. The code audited – bribery not possible.
High availability
DigiStamp's cloud-based service uses AWS Global Accelerator and their Load Balancers to enable failover across 3 geographically-distributed DigiStamp timestamp server locations (at our data centers)
We have achieved and guarantee 99.99% uptime for our RFC 3161 interfaces for over 20 years.
Warranty
Computers and encryption evolve; quantum computing represents a potential risk to the current time stamping methods. DigiStamp's "7-year renewal warranty" for your timestamps adds protection against this risk.
DigiStamp's RFC3161 timestamp service is supplemented with Hash Chaining and a Timestamp Archive with Renewal as defined in IETF RFC 6283 Evidence Records for Long Term Archiving
See more details about timestamp renewal and hash-chaining linking here.
Experts
DigiStamp has been providing the timestamp cloud-service for over 20 years. We participated in the development of the original IETF RFC3161 design in 1999. We know how to properly build the trusted timestamp services. Giving you a secure timestamp is a cornerstone of PKI and DigiStamp.
On-premises Server or SaaS Cloud Service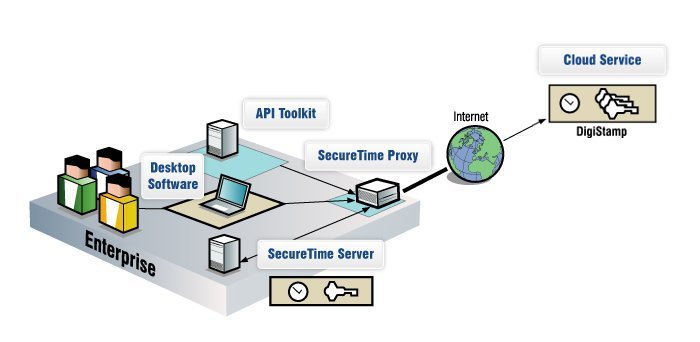 SecureTime Component
DigiStamp Products and Services
Core of our operations is our cloud TSA timestamp service providing IETF RFC 3161 timestamps and RFC 6283 "Evidence Records for Long Term Archiving" (XMLERS). Prices and account setup

are here.

More information

available here

..

We rarely sell timestamp servers because there are two key advantages to using the cloud-based service: cost and ease of access. In a few cases, in-house timestamp servers may be preferred. More

details here

.

Use the API toolkit to access the trusted timestamp service with your internal systems, such as work flow and data collection. DigiStamp's integration toolkits historically were the primary method of adding timestamps to your existing business applications. Due to wide acceptance of timestamping standards, this function is supported in software like

BouncyCastle

. DigiStamp's API toolkit is free for our customers. More

details available here

.

The Proxy allows many employees and internal systems to securely share access to DigiStamp's trusted timestamp service. Individual workstations access timestamp servers using a customized URL like http://timestamp.companyInternal.com and require no authentication or special software. The Proxy could even be reconfigured later to use an on-site timestamp server or a different timestamp vendor, and there would be no impact to existing users.
Some of our customers: