Incorporate DigiStamp's SecureTime into a PDF file.
Looking for free software to add a digital signature to your document/pdf?
There is no charge for the software to create digital signatures. Here is Adobe DC Reader.
Get more, get both: Prove when the content and signature existed with a third-party witness, a timestamp.
Why would I want to timestamp my signature of a PDF file?
To create evidence of when a document was signed, you need a timestamp, a digital notary. It's easy to incorporate into Adobe Reader. Instructions are here.
A timestamp added to the digital signature is third-party proof / evidence of when the file was signed and that contents have not changed since that time. Our trusted timestamp is virtually impossible to forge. You get digital proof of when any file was created, for pennies.
If you have a timestamp of your PDF file, and even if your signing certificate expires or is revoked, your prior signatures will still validate correctly. Learn more about how timestamps help guard against losing secret keys and revocation.
Note:
1. Is a signed PDF necessary? Instead, we have an easier online tool to create a timestamp.
What if it's not a PDF file? Our timestamping works for any type of computer file. Use our simple online tool, and you have your proof with the ability to validate it at any time.
​​​​
2. Or you can use Adobe Reader to just timestamp the file. Instructions are here.
Privacy is maintained: In all these solutions your files never leave your computer. Timestamping does not send your document over the Internet - only a SHA hash of the signature is sent to DigiStamp to create the timestamp, more information here.
What costs are involved ?
Adobe Reader software is free. Or there are other options like using Microsoft Office here. Our online tool is also free.
Each timestamp you create is less than 40 cents. Creating your account and information here.
If you choose to create personal digital signatures, then you pay for your digital signing credentials that commonly last for 1 year. DigiStamp does not provide your personal credentials, other vendors and some resources here.
Adobe Reader Configuration Instructions – add SecureTime
Also helpful, Adobe has provided instructions here
Users Evaluating our Service with a Test Account: Test account users will need to use certificates and URLs for test accounts.
Step 1: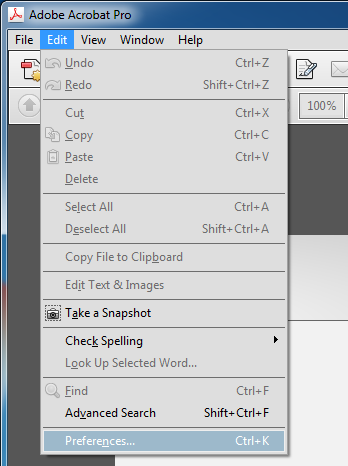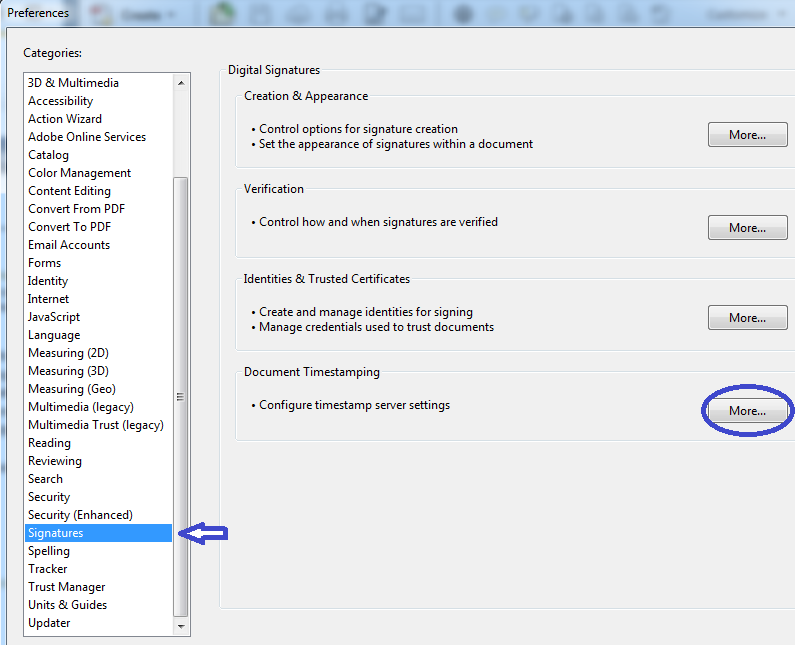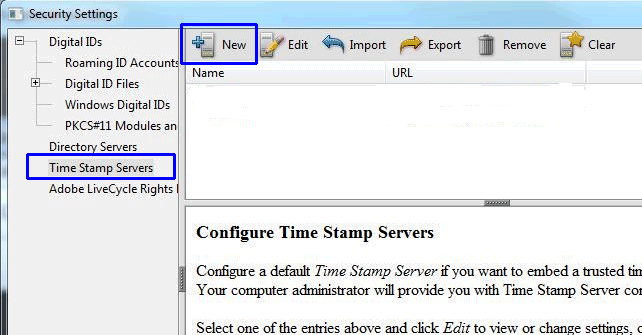 Specify the DigiStamp servers:

Primary server: https://tsa.digistamp.com
Backup server if the primary is unavailable: http://tsa2.digistamp.com
The beginning text "http://" or "https://" is required, or Acrobat will later respond with:
"Unsupported transport protocol"

You will need to create an account at DigiStamp. Click here for Account Setup.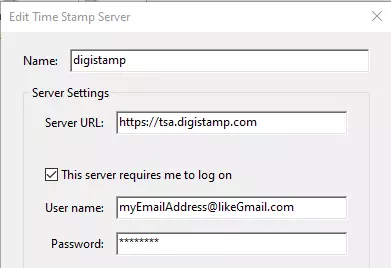 Adobe's Advisory: "You will never be required to enter your password" is innaccurate. The first time you create a timestamp, a Windows OS dialog box will request your username and password. If you select the checkbox for "Remember", you will not be asked again.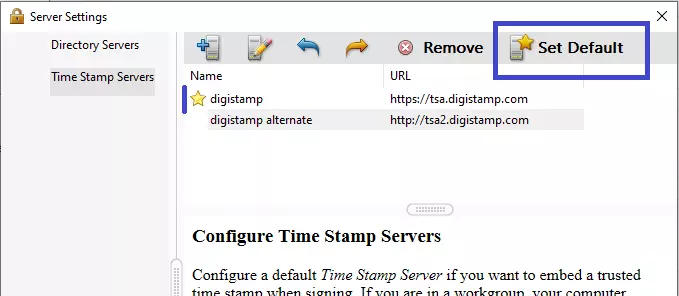 Common Problems
If Acrobat responds with error: "Server not found" then confirm that you have entered the URL exactly as https://tsa.digistamp.com
If Acrobat responds with error: "Transport authorization failure" then your account number is not correct (even a space at the end causes this), the password is entered wrong, or your account has no balance.
If Acrobat responds with error: "Error encountered while BER decoding" or "Unspecified transport error" then check that the server URL above is entered correctly as: https://tsa.digistamp.com
Step 2:
First, download the Root Certificate from DigiStamp In your Browser
"Save" the DigiStamp Root CA certificate from here: com.digistamp.root.NIST.cer
FYI, detail information about DigiStamp public key certificates and other options if you are not using NIST Elliptic Curve here .